We did it, two shows in one month. Darren and I are back in the saddle and ready to take you on an hour of gaming and sandwich exploration.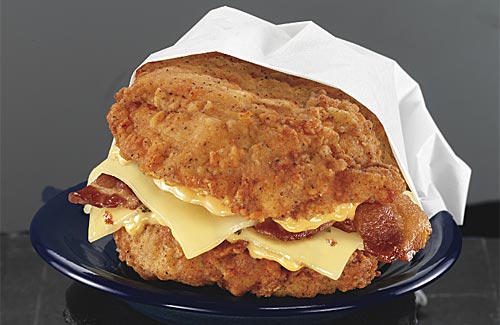 Kicking it off with heaven and hell, we visit the KFC Double Down (pictured above) and the problems with Japanese sandwiches. Darren reveals his new found love of Robot Unicorn Attack in what we have been playing, while I do some quick hits on a number of my recent distractions. News features a few choice topics from the last two weeks, which I hoped would enable Darren to engage in conversation about contemporary games. I wasn't very successful. Games as art is the subject of our main discussion. Inspired by Robert Ebert recent post that declared they could never be, we talk at length about the merits of games and where we think they sit within the spectrum of art and design. And, as always, we wrap up with Darren's Old Games.
Enjoy the show, please leave comments if you have any and feel free to get in touch if you have any suggestions or questions for us here at DoFuss. Remember to check back for the next show in two weeks.

I Don't Let Friends Have a Bite of My Sandwich.
[ 1:07:34 ]
Play Now
|
Play in Popup
|
Download