Welcome one and all to your fortnightly bit of gaming audio delight from the DoFuss (Darren and I). With the stale whiff of the weekend's alcohol still lingering on our breath Darren and myself embark on a quick foray into the world of gaming news and issues to see what we can find.
Gaming news and talk of what we have been playing sits as ever at the front of the show, but this time the feature topping our metaphorical cake is whether playing online games could make us better people. This is an idea put forward by Jane McGonigal, a designer at the Institute for the Future, during her talk at TED in February. While it may seem like a bizarre idea, much of what she said got me thinking that there maybe something to it, as did looking at her online games (including Evoke, pictured) that have been designed to harness the power of the game playing public for good.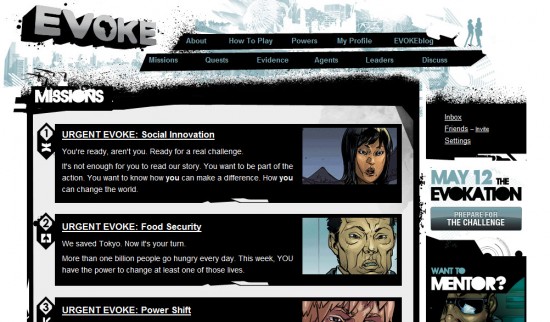 Regular listeners may notice the lack of Darren's Old Games, feel free to let him know your displeasure in the comments below (he does promise it will be back next time).
Enjoy the show!

The DoFuss Show – Productively Doing Nothing.
[ 1:03:51 ]
Play Now
|
Play in Popup
|
Download